Company Profile
Qingdao Forest Wildlife World Co., Ltd., located in (Lingzhu Mountain), Zhushan Scenic Area, Huangdao District, Qingdao, is a large comprehensive theme park integrating wildlife display and protection, popularization of science, catering, leisure and entertainment into a whole. Many animals develop with surrounding ecological environment in harmony and thus form a high-grade ecological park with green mountains, clear water, animal and crowd in unity naturally.
Here has fresh air, elegant environment, small bridges over the flowing stream, cliffs and waterfalls. The landscapes of lakes and mountains form a delightful contrast. A free sightseeing bridges zigzags in the valley, passes through jungles and wanders over the beast area. Walking on the sightseeing bridge, you can see green mountains and trees; listen to tigers' growls and lions' roar; and look for footmarks of bears and leopards, which give you another kind of fun. The park is stocked with 263 varieties and more than 5,000 heads of wild animals. You can experience thrills and excitement in the beast zone; appreciate glittering ripples in the waterfowl lake with groups of birds playing and chasing each other; watch groups of animals wandering about unhurriedly in the herbivore zone and enjoy spectacle in the large animal performance field, which present people magnificent momentum and spectacular scene. All kinds of rare birds and animals move about freely, live and reproduce in their corresponding natural ecological environments. Tourists can walk or drive pleasantly in the park; be close to wild animals in a close range; experience the fun of sharing nature and harmonious coexistence between human and animal; and enjoy the feeling of returning to original nature. Let's watch, learn about and love animals here and feel "Under the Same Blue Sky, Share Nature" together.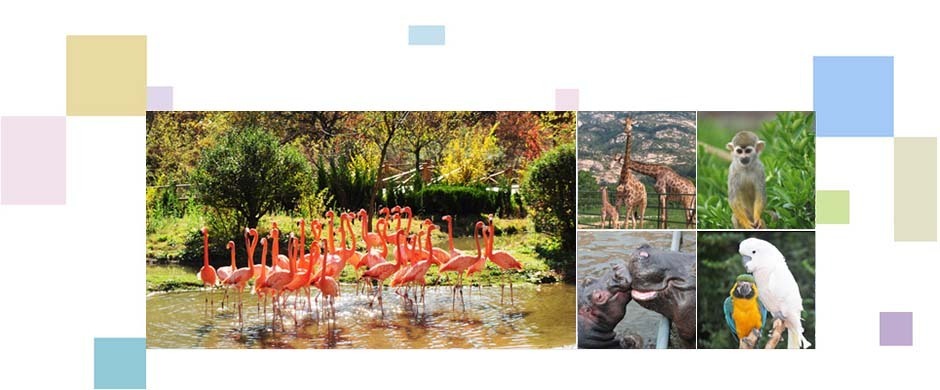 Beast Area:
  The entire beast zone is in the gorge, with a five-meter high and 1,000-meter long free sightseeing bridge striding over the gorge. On the bridge, tourists can appreciate beasts and extremely unique "Lucky Persimmon Tree" growing on the bridge. The beast zone is divided into a Coyote Area, an Asian Tiger Area, an African Lion Area, a Leopard Area and a Bear Area. The organic combination of environment and animals in the entire zone reflects a truly original grand scene of "Returning to Nature & Wild Nature Experience".

Walking Area:
  Tourists can visit the walking area covering an area of over 120 mu by foot or battery cart. The walking area includes a small animal park, a parrot park, a pigeon square, a racecourse, an African animal stocking area, an Asian animal stocking area, a pine monkey house, a giraffe museum, a flamingo museum, a kangaroo museum, a hippos museum, a crocodile pool, a golden takin area, a hawthorn and Chinese chestnut forest, an animal photography plaza, a large animal performance field, a porker playground, a children's playground, a peacock court, a small panda house, a vulture museum, an animal arena, a waterfowl lake, an emu park and a bird singing corridor. A total of 200-plus varieties and several thousand of rare birds and animals contact closely, reflecting the harmony and unity of animals and people.